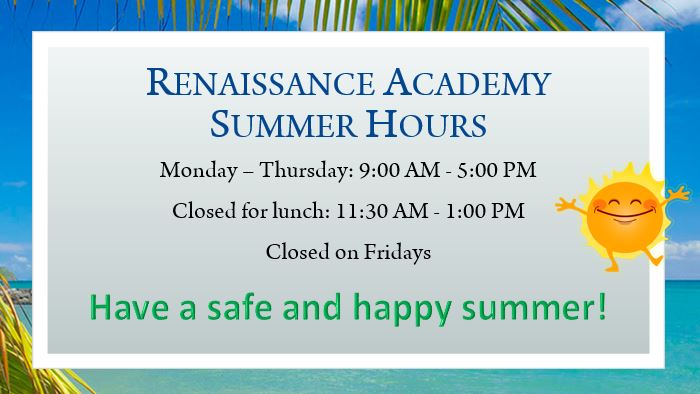 Announcements
It's almost back to school time, and we are so excited to start another great year with our students at Renaissance Academy! We have a unique opportunity, which most schools do not have. Because our student population is so small, we can attend school, face to face, while still practicing the CDC guidelines for health and safety during this pandemic. Our staff has been working diligently to prepare for our school's opening, and we continue to monitor guidelines and recommendations for a safe opening.


Orientation at Renaissance Academy is on Tuesday, September 8, 2020. Students with the last name beginning A-L will have their orientation from 8:30 AM -10:30 AM. Students with the last name beginning M-Z will have their orientation from 1:00 PM - 3:00 PM. Parents/guardians must attend orientation with their student. Students are allowed 2 guests, which must be a parent or guardian.

ALL STUDENTS AND PARENTS/GUARDIANS WILL BE REQUIRED TO WEAR FACE MASKS, AND WILL NOT BE ALLOWED IN THE BUILDING WITHOUT A FACE MASK. RENAISSANCE ACADEMY WILL NOT PROVIDE FACE MASKS.

In order for all of our students to be successful, we believe it is vital to have open communication between home and school. If you have a question or concern, please don't hesitate to call or email school personnel.

Wish to learn more about your child's teachers? Visit their classroom webpages! You can do this by choosing the "Faculty" page in the "About Us" section.